Sutures
Surgical suture is a medical device used to hold body tissues together after an injury or surgery. Application generally involves using a needle with an attached length of thread.
A number of different shapes, sizes, and thread materials have been developed over its millennia of history. Our Certified Physicians at Dairy Road Urgent Care have the training, and experience to engage in suturing.
Suturing Techniques
Many different techniques exist. The most common is the simple interrupted stitch; it is indeed the simplest to perform and is called "interrupted" because the suture thread is cut between each individual stitch. The vertical and horizontal mattress stitch are also interrupted but are more complex and specialized for everting the skin and distributing tension. The running or continuous stitch is quicker but risks failing if the suture is cut in just one place; the continuous locking stitch is in some ways a more secure version. The chest drain stitch and corner stitch are variations of the horizontal mattress.
Other stitches or suturing techniques include:
Purse-string suture, a continuous, circular inverting suture which is made to secure apposition of the edges of a surgical or traumatic wound.

Figure 8 stitch

Subcuticular stitch.
  OPENING HOURS
| | |
| --- | --- |
| Mon. – Fri. | 9:00 AM to 7:00 PM |
| Sat. – Sun. | 9:00 AM to 5:00 PM |
(321) 956-8224
  CLINIC LOCATION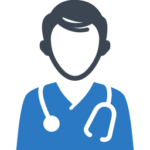 Meet the doctors at Dairy Road Urgent Care WHAT OUR PATIENTS SAY
These are actual comments from actual patients who have visited Dairy Road Urgent Care.
This place is the best. They're so kind, professional, and fast. I would recommend them to anyone, old, young, or in between.
Staff is very friendly. I've never had to wait long. Doctors and PA's really listen to you. They also follow up with detailed questions to get to the problem. I've never felt like they were rushed or disinterested. They are my 1st choice for urgent care.
My visits here for me and my children have all been helpful, good visits so far, a lot better than our experience at DOCCS.
Make An Appointment
Dairy Road Urgent Care is here to serve you, you can walk-in at any time, or send us an appointment request. One of our certified physicians will contact you to schedule you an appointment.
Emegency Care

You can rely on the experience and knowledge of our Board Certified Internal Medicine physicians in case of any emergency.
Expert Diagnostics

At Dairy Road Urgent Care, we have the knowledge and the technology to provide you with the most accurate medical advice.
Women's Health

Our Certified Physicians not only specialize in internal Medicine, Emergency Medicine, and ER, but also in Women's Health