Prothrombin time (PT)
The prothrombin time (PT)—along with its derived measures of prothrombin ratio (PR) and international normalized ratio (INR)—are assays evaluating the extrinsic pathway of coagulation. This test is also called "ProTime INR" and "PT/INR". They are used to determine the clotting tendency of blood, in the measure of warfarin dosage, liver damage, and vitamin K status. PT measures factors I (fibrinogen), II (prothrombin), V, VII, and X. It is used in conjunction with the activated partial thromboplastin time (aPTT) which measures the intrinsic pathway and common pathway.
International normalized ratio
The result (in seconds) for a prothrombin time performed on a normal individual will vary according to the type of analytical system employed. This is due to the variations between different types and batches of manufacturer's tissue factor used in the reagent to perform the test. The INR was devised to standardize the results. Each manufacturer assigns an ISI value (International Sensitivity Index) for any tissue factor they manufacture. The ISI value indicates how a particular batch of tissue factor compares to an international reference tissue factor. The ISI is usually between 0.94 and 1.4 for more sensitive and 2.0-3.0 for less sensitive thromboplastins.
The INR is the ratio of a patient's prothrombin time to a normal (control) sample, raised to the power of the ISI value for the analytical system being used.
  OPENING HOURS
| | |
| --- | --- |
| Mon. – Fri. | 9:00 AM to 7:00 PM |
| Sat. – Sun. | 9:00 AM to 5:00 PM |
(321) 956-8224
  CLINIC LOCATION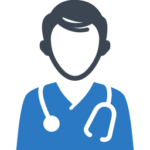 Meet the doctors at Dairy Road Urgent Care WHAT OUR PATIENTS SAY
These are actual comments from actual patients who have visited Dairy Road Urgent Care.
This place is the best. They're so kind, professional, and fast. I would recommend them to anyone, old, young, or in between.
Staff is very friendly. I've never had to wait long. Doctors and PA's really listen to you. They also follow up with detailed questions to get to the problem. I've never felt like they were rushed or disinterested. They are my 1st choice for urgent care.
My visits here for me and my children have all been helpful, good visits so far, a lot better than our experience at DOCCS.
Make An Appointment
Dairy Road Urgent Care is here to serve you, you can walk-in at any time, or send us an appointment request. One of our certified physicians will contact you to schedule you an appointment.
Emegency Care

You can rely on the experience and knowledge of our Board Certified Internal Medicine physicians in case of any emergency.
Expert Diagnostics

At Dairy Road Urgent Care, we have the knowledge and the technology to provide you with the most accurate medical advice.
Women's Health

Our Certified Physicians not only specialize in internal Medicine, Emergency Medicine, and ER, but also in Women's Health