EKG – Electrocardiography
Electrocardiography (ECG or EKG) is the process of recording the electrical activity of the heart over a period of time using electrodes placed on the skin. These electrodes detect the tiny electrical changes on the skin that arise from the heart muscle's electrophysiologic pattern of depolarizing and repolarizing during each heartbeat. It is a very commonly performed cardiology test.
The overall goal of performing electrocardiography is to obtain information about the structure and function of the heart. Medical uses for this information are varied and generally relate to having a need for knowledge of the structure and/or function.
Some indications for performing electrocardiography include:
Suspected myocardial infarction (heart attack) or new chest pain

Suspected pulmonary embolism or new shortness of breath

A third heart sound, fourth heart sound, a cardiac murmur, or other findings to suggest structural heart disease

Perceived cardiac dysrhythmias, either by pulse or palpitations

Monitoring of known cardiac dysrhythmias

Fainting or collapse

Seizures

Monitoring the effects of a heart medication (e.g. drug-induced QT prolongation)

Assessing severity of electrolyte abnormalities, such as hyperkalemia

Hypertrophic cardiomyopathy screening in adolescents as part of a sports physical out of concern for sudden cardiac death (varies by country)

Perioperative monitoring in which any form of anesthesia is involved (e.g. monitored anesthesia care, general anesthesia); typically both intraoperative and postoperative

As a part of a pre-operative assessment some time before a surgical procedure (especially for those with known cardiovascular disease or who are undergoing invasive or cardiac, vascular or pulmonary procedures, or who will receive general anesthesia)

Cardiac stress testing

Computed tomography angiography (CTA) and Magnetic resonance angiography (MRA) of the heart (ECG is used to "gate" the scanning so that the anatomical position of the heart is steady)

Biotelemetry of patients for any of the above reasons and such monitoring can include internal and external defibrillators and pacemakers
  OPENING HOURS
| | |
| --- | --- |
| Mon. – Fri. | 9:00 AM to 7:00 PM |
| Sat. – Sun. | 9:00 AM to 5:00 PM |
(321) 956-8224
  CLINIC LOCATION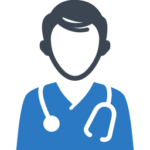 Meet the doctors at Dairy Road Urgent Care WHAT OUR PATIENTS SAY
These are actual comments from actual patients who have visited Dairy Road Urgent Care.
This place is the best. They're so kind, professional, and fast. I would recommend them to anyone, old, young, or in between.
Staff is very friendly. I've never had to wait long. Doctors and PA's really listen to you. They also follow up with detailed questions to get to the problem. I've never felt like they were rushed or disinterested. They are my 1st choice for urgent care.
My visits here for me and my children have all been helpful, good visits so far, a lot better than our experience at DOCCS.
Make An Appointment
Dairy Road Urgent Care is here to serve you, you can walk-in at any time, or send us an appointment request. One of our certified physicians will contact you to schedule you an appointment.
Emegency Care

You can rely on the experience and knowledge of our Board Certified Internal Medicine physicians in case of any emergency.
Expert Diagnostics

At Dairy Road Urgent Care, we have the knowledge and the technology to provide you with the most accurate medical advice.
Women's Health

Our Certified Physicians not only specialize in internal Medicine, Emergency Medicine, and ER, but also in Women's Health